Google Pay is a user oriented digital wallet system owned by Google. It is becoming more popular because of its interesting features and rewards given to the user. It works for the convenience of users with appealing traits. Referral code is one of them attached with the link and the benefit is provided to sender as well as receiver.
Let us see how to enter referral code in gpay.
Table of Contents
What is Referral Code?
Referral Code is a fusion of alphabets with numbers, showing unique identity and are widely used for earning profits in the form of cashback or reward.
Google pay also provides this facility to gather the users. Whenever somebody sends a link to invite you, a referral code is always mentioned in the last. You can use this code and get the benefits. Here are some simple steps to "How to use Gpay referral code".
11 Steps on How to Enter Referral Code in Gpay Mobile App
1. Open your Gpay application.
2. Sign up using your phone number, and verify with your email.
3. Now you are signed in.
4. Click on the top right corner, open your profile.
5. In this page you will see 3 vertical dots button on the top right corner.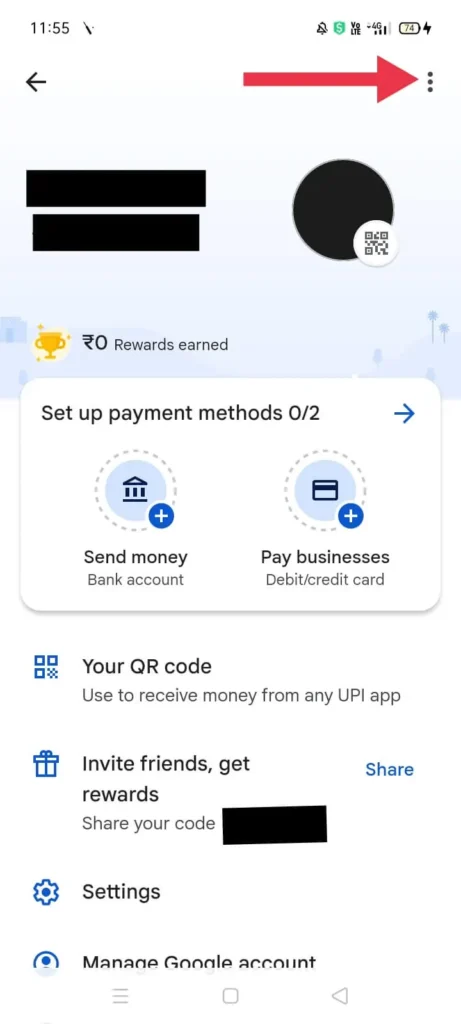 6. Touch the button and go to first option "Referral code".
7. It is the destination having the answer of the query "Where to apply Referral code in Gpay".
8. Here , you will find a section where "Enter Referral Code" is mentioned.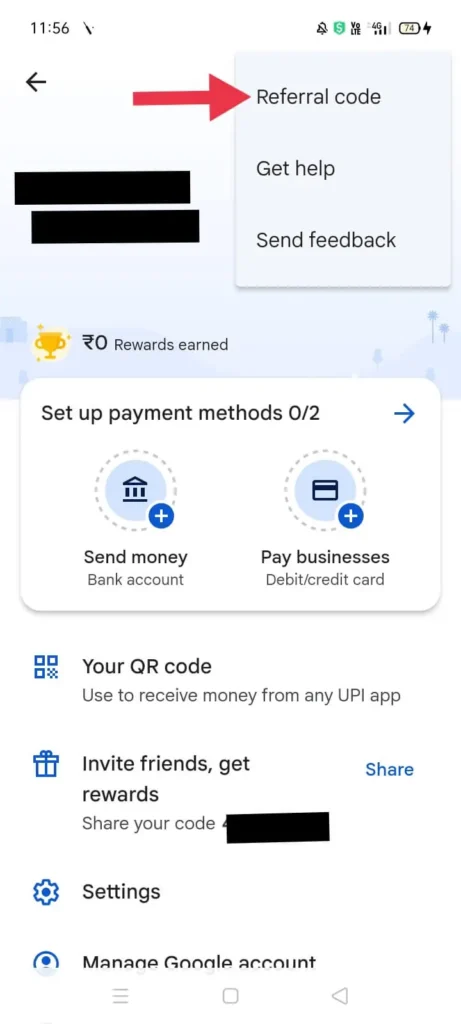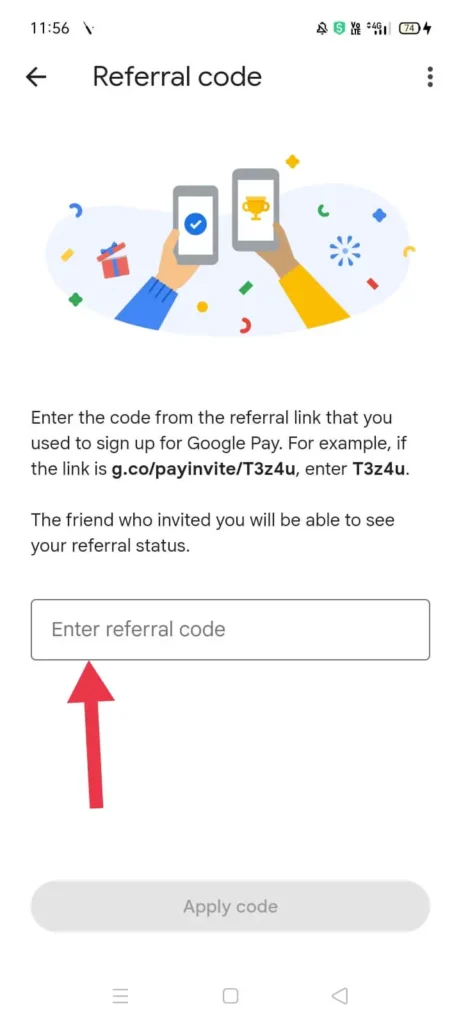 9. Enter the given code, apply it and get benefitted.
10. You can also create your own referral code, share among your contacts, invite friends with the link and earn more.
11. You will earn Rs.21 cashback on your first transaction to Gpay account by using Refferal code.
Things to Remember
You can not use your own referral code.
It is applicable only for new users , who haven't done any payment via Google pay.
One cannot use this code again and again , it is applicable on the first transaction only.
Make sure that payments are done between Gpay accounts only.
Frequently Asked Questions
Q: Can I use multiple referral codes for signing up ?
Ans: No , you can use only one referral code, valid for first sign up.
Q: Is it possible to track our rewards earned by referrals ?
Ans: Yes , go to the "Rewards" section and you will see all rewards here.
Q: When will I get the referral bonus ?
Ans: If your friend makes the first Gpay transaction by using your referral code then only you will get rewards.
Q: Why am I not eligible to use referral code ?
Ans: It could be possible when either you have already done transactions with Gpay or the device had another active Gpay account before yours.
Conclusion
I hope you find this article to be helpful and the process of How to enter referral code in Gpay now has been cleared to much extent along with some precautions.
So, this is one of those platforms where you can invest and earn altogether with security.