Did you receive any cashback on Amazon Pay? I'm sure that you would have definitely got it at some point if you have been using Amazon for a long time.
Because amazon gives lots of scratch cards with lots of offers and lots of cashback. And Amazon Pay balance keeps on increasing little by little. Recently, I received a small cashback through amazon pay.
But at that point I didn't know how to check amazon pay balance. So I did some research and discovered it.
If you don't know how to check your amazon pay balance, here is the information that will help you check it.
Table of Contents
How to Check Amazon Pay Balance in App
Step 1: Open the "Amazon" app.
Step 2: You will see a grey "Amazon Pay" option, open it.
Step 3: Look above on the screen. You will see "Amazon Pay balance".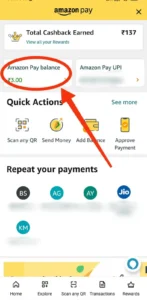 Step 4: Click on it and you can see your Amazon Pay balance.
What is Amazon Pay Balance?
Amazon Pay balance is the amount of money present in the "Amazon Wallet". Amount in the Wallet can be deposited by various methods.
When you earn cashback after making any payment, the amount is deposited to your Amazon Pay wallet.
You can add money yourself from your bank account to the Amazon Pay Wallet for the easy payment of bills every month.
If you purchase something online from Amazon through the COD method and you do not have change, you can ask your delivery agent to transfer the extra money, that you paid him, to your Amazon Pay balance.
Note: To do cashload at the doorstep (get deposited your extra cash of COD order to Amazon Pay balance) you need to have your KYC complete on your Amazon account.
To complete KYC you have to upload your photo (a selfie) and a PAN document. They will also ask for Aadhar verification. After Aadhar verification is complete, a "Video KYC" will start in your preferred language. In almost 10 minutes the video KYC will be completed and your account will turn into a full KYC account.
Also, to transfer the Amazon pay balance money that you have added to the Wallet, you need to have a "full KYC account". But if you want to add money to the wallet from your bank account you can do it without the completion of KYC as well.
How to Check Transaction History on Amazon Pay
Step 1: When you open Amazon Pay, you will see 5 options at the bottom of your screen. One of them is the "Transactions" option. Click on it.
Step 2: The next page that opens is your "Transaction history". Here you can see all the transactions that you made. You can even see the old transactions which become very important sometimes, to prove that you have made the payment.
Step 3: There are two more sections on the page that show your "refund" of the returned orders and the "history of all the cashback" that you have earned by making the payment by Amazon Pay.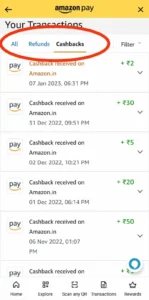 The information that you need to know about Amazon Pay is almost covered in the article. But if you still need to know anything more about Amazon, you can go to the Amazon app and read about it. Amazon has given very precise information about all the features that it has. All your doubts will be solved there and you will be able to use Amazon very efficiently and enjoy the benefits of all facilities and offers that they provide.